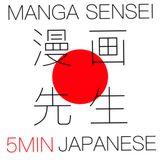 Manga Sensei: Daily Japanese Learning
The internet's fasting website for free Japanese online. Learn Japanese every single day, 365 days a year, with John-Sensei as he breaks it down for you in 5 minutes or less.

Plus check out the website for language tools, hacks, and the fasting growing database for grammar. Not to mention that we update every single day!