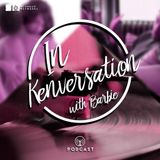 In Kenversation W/ Barbie
In Kenversation with Barbie offers a weekly dose of all things sex, love, and R&B. Carefully crafted playlists ease you into each episode as hosts Ken and Barbie showcase their candor, humor, and uncensored dialogue. The quick-witted duo touch upon a wide range of dating and relationship topics that are sure to stimulate the mind and arouse the senses.

Tune in.
There's nothing more gratifying than good kenversation.