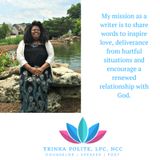 Feasting on the Divine!
214
Plays
214
Plays
2
Downloads
2
Downloads
Feasting on the Divine is all about feeding your body, mind, and soul with divinely inspired words and divinely delicious food while maintaining a fit lifestyle!

Trinka invites you to listen and join in as we discuss why it's so vital to feed every part of your being with positive intention. Let's Feast!