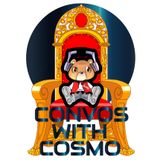 Convos With Cosmo
2,105
Plays
2.1K
Plays
97
Downloads
97
Downloads
Uniting the Entrepreneur and the Alpha Male as One= "The ALPHA PRENEUR".

Convos With Cosmo is the worlds foremost authority on "Alpha Preneurism".

I examine Alphahood in an Educational & Entertaining way….EDUTAINMENT. However, I do so in a NO nonsense approach; Were waging war against Bitchassness, Beta-Males, Complainers-&-Blamers, Purposeless and Pussy Whipped Men. And anything else that would keep a Man from walking in his complete and full masculinity.