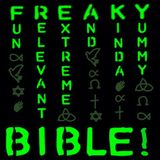 FREAKY Bible
Fun, Relevant, Extreme, And Kinda Yummy Bible covers Bible topics in a fun manner for 30 minutes on Sundays and Wednesdays.
Listen in on an unscripted Daddy/Daughter Bible study and learn answers to relevant topics today.
This podcast helps busy people who want to know more about the best-selling book of all time.
Learn real answers in a fun way so you can grow closer to God to help get through life the best way possible!